ebob miniatures
ebob miniatures produce a very nice Opel Blitz model. The kit is highly recommended for all 28mm German WW2 model lines.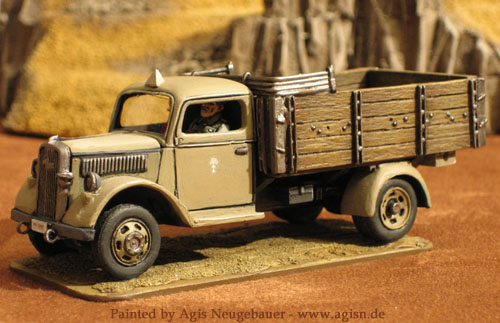 They also produce the Stalag Luft III game. It is a game system which will enable you to recreate the events of 'The Great Escape'.
Based on the factual events of the actual escape which took place from Stalag Luft III, you will build tunnels, disperse the sand, bribe guards, avoid the watchful eyes of the 'Ferrets' (Luftwaffe specialist anti-escape experts), avoid guard dogs and watch towers, cut through the wire, and forge papers and clothing in preparation for the main escape. You can even get some downloadable paper buildings from their site.
But back to the Opel kit.
It is not an easy kit. You have to build it from several pieces and I can only recommend to paint it in partially unassembled.
I based the whole vehicle on a sheet of plasticard. The sheet was covered with some miliput for additional stability.
One additional nice feature is the fact that the Bolt Action drivers are all fitting to the Blitz. So you can even put some suitable drivers into the Opel. The front windshield is a cut piece of plastic from the mini blister. Once assembled the vehicle really fits to the established 28mm miniatures. The picture below shows the Opel with minis from Artizan, Crusader and BAM.