Late War Germans
By sheer coincidence I got interested in the Ardennes campaign. The good thing is that there are right now a lot of really nice models around to support this interest. West Wind is doing real nice Panthers, NZWM has a growing horde of nice WW2 minis, Artizans infantry is a s gorgeous as ever, Bolt Action minis is pumping out mini after mini and Black Tree and Victory minis fit well to them all.

The Panther above is from West Wind, the 251 from NZWM and the infantry from Artizan.

The SdKfz 251 is another fine model from NZWM, the gunner is from Bolt Action Miniatures and the rest of the minis is from Artizan. And the beauty of it all: products of 3 different companies work together like a charm. One of the nice things about historical wargaming...

Artizan has produced a good range of late war Germans. Nice models as expected by Mike Owen.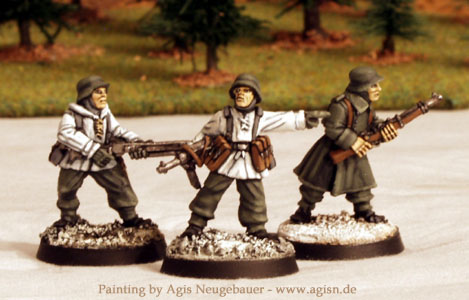 I decided to paint the minis in real cold (winter feel) colours. The colours are inspired by an illustration from Ospreys Campaign book #5.